Recipe: Healthy Smash Cake for Baby's 1st Birthday

I know a lot of parents feel the way Josh and I do about not wanting to feed their baby artificial dyes, too much sugar, or even eggs just because it's their baby's first birthday. We wanted Lillian to get to enjoy a smash cake, but the only way we felt comfortable with it was to make it ourselves.
I researched different options and ultimately settled on a recipe I found submitted on a forum. I was a little iffy about the cream cheese frosting, because just like buttercream, that's a lot of dairy. Lillian hadn't had anything dairy up to that point. Also, I wanted her to enjoy it, and I didn't know how much she'd like cream cheese mixed with apple juice concentrate. Might have been fine, but I ran out of time to make it on the day of her party anyway, and I had just enough first birthday cupcake frosting left to cover her little cake, so we decided to use that.
She was great with it! She loved it, and she loved the cake, and that makes us happy!
Also happily, she has no allergies to dairy, and didn't get hyper from the sugar in the frosting.
So if you want to make a healthier cake with ingredients you know your baby's used to eating and will enjoy, and want to see them have fun with their first really sweet thing, you can't go wrong with the combination we used!
(I should add that all of us adults who ate the rest of Lillian's smash cake loved the flavor too!)
After baking this cake in two 9″ round pans, I let them cool, then I took a bowl we have that's got about a 6 or 7″ opening and overturned it onto each cake, using it like a kind of giant cookie cutter. That made two smaller cakes for me to layer and frost.
It fit better on her high chair tray and looked cute and perfect for a baby's first birthday!
Also, I did a lot of research on natural food colorings that use no corn syrup or artificial dyes (petroleum)…and I could only find one brand that fit that bill: India Tree Natural Decorating Colors.
It's a set of red, blue, and yellow, made out of vegetable colorants.
They're pricey but worth it if you don't want all that bad stuff. Anyway, I decided to leave the frosting a natural white, but just know you have options if you want to use a bit of (healthier) color.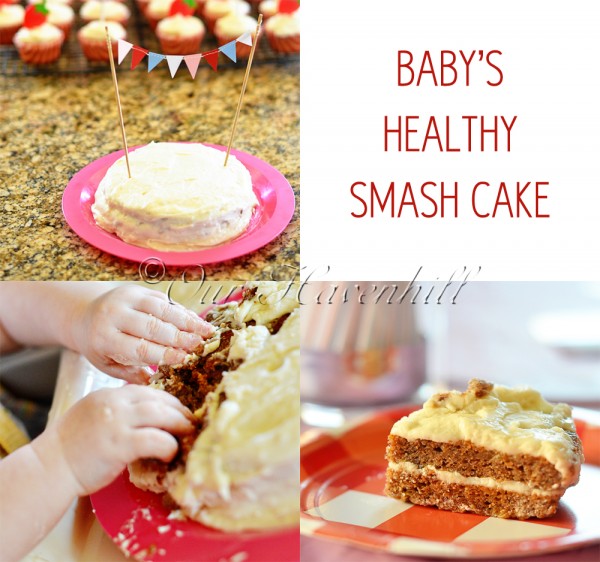 Healthy Smash Cake
INGREDIENTS:
4 or 5 ripe bananas
3/4 cup natural no sugar added applesauce
1 teaspoon baking soda
1 1/2 cups whole wheat flour
3 teaspoons vanilla extract
1 teaspoon cinnamon
1/4 teaspoon nutmeg
For the frosting (if not using first birthday cupcake frosting):
1 cup (8 ounces) cream cheese
1/2 cup (4 ounces) no sugar added apple juice concentrate
2 teaspoons pure vanilla extract
DIRECTIONS:
Mash the bananas in a medium bowl.
In a separate large bowl, mix the flour, baking soda, cinnamon, and nutmeg together.
Add the mashed bananas, applesauce, and vanilla to the flour mixture. Mix just until incorporated.
Spray your 8 or 9″round pans with non-stick cooking spray or coat with butter and flour.
Spread the batter into the bottom of both pans.
Bake at 400° for 20 minutes.
Cool the cakes, then use overturned smaller bowl to cut out small cake rounds.
For the frosting (if not using first birthday cupcake frosting):
Soften the cream cheese.
Whisk the cream cheese with the apple juice concentrate and vanilla extract until creamy.
(Best if frosted freshly since there may be browning due to lack of preservatives.)
NOTE TO READERS:
There have been a lot of good questions and discussions about this smash cake recipe in the comments section! Please continue to write comments here, but if you want also, I've created a forum where you can post your questions about the cake and recipe, or where you can share photos or blog posts featuring the smash cake you made for your little one! Visit the forum here. Just scroll down to the smash cake discussion under recipes. Don't forget to introduce yourself first on the forum if you wish! 🙂