Recipe: Sesame Caramel Brownies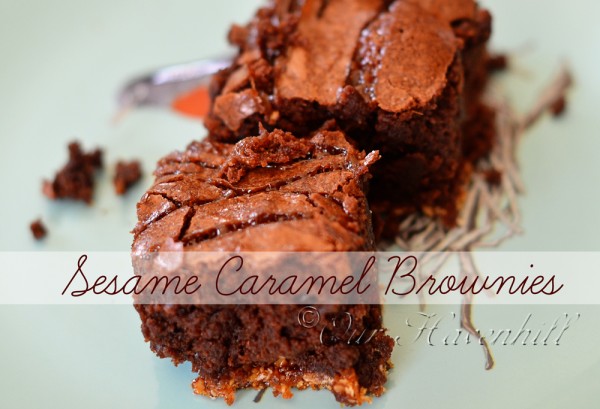 Sesame Caramel Brownies
Ingredients:
1 1/2 cups granulated sugar
2/3 cup cocoa powder
1 1/2 sticks (12 tablespoons) butter PLUS 2 tablespoons melted butter
1 teaspoon vanilla extract
1 cup flour
3 large eggs
6 sesame date bars (3 packs) (I use Oskri brand, you can get from Amazon here.)
caramel ice cream topping
(Optional) 1 little helper in the kitchen (to mash the sesame bars) – see photo below. (Though you can't have this one…she's mine!) 😉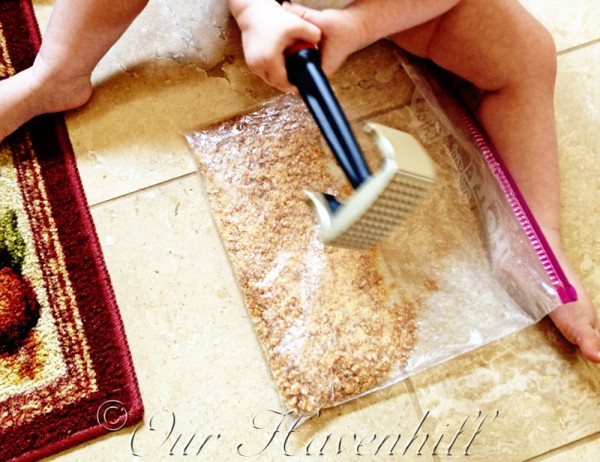 Directions:
Place sesame bars into ziploc bag and mash into crumbs.
Melt 2 tablespoons butter and stir into sesame crumbs with your hand, crumbling and mashing it together.
Pack the crumb mixture into bottom of 8×8 or 9×9 pan. (Don't worry if there are gaps..see image below)
Drizzle caramel syrup over butter/sesame crumb mixture.
Preheat oven to 350°.
 Melt one and a half sticks of butter in saucepan over medium heat. Add granulated sugar and vanilla extract, mixing well.
Remove pan from heat and whisk in cocoa powder.
Beat eggs in a separate bowl, then pour the chocolate mixture into bowl and whisk with eggs until well combined. Lightly stir in the flour.
Pour the batter into pan over sesame mixture. Drizzle more caramel syrup over the top.
Bake at 350° for 35 minutes.
Cool completely, then cut into squares.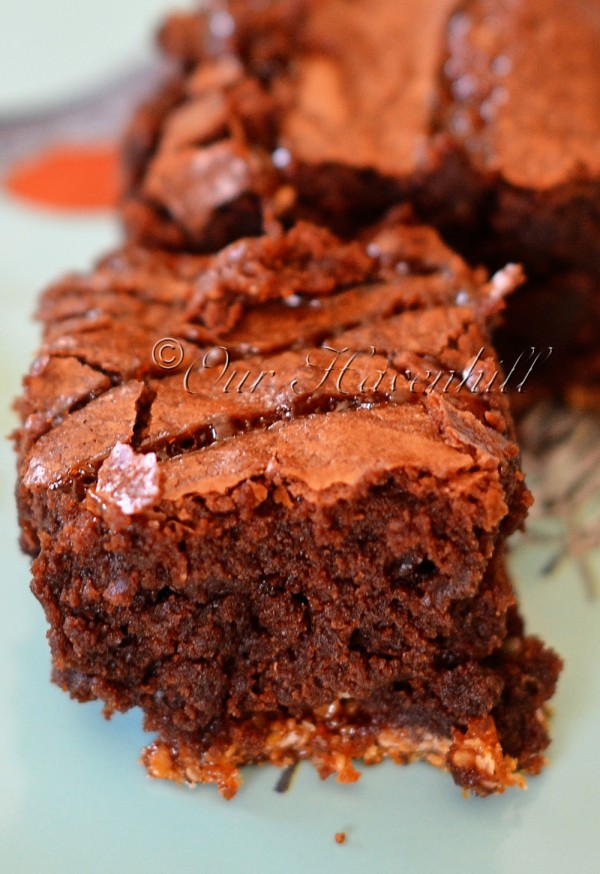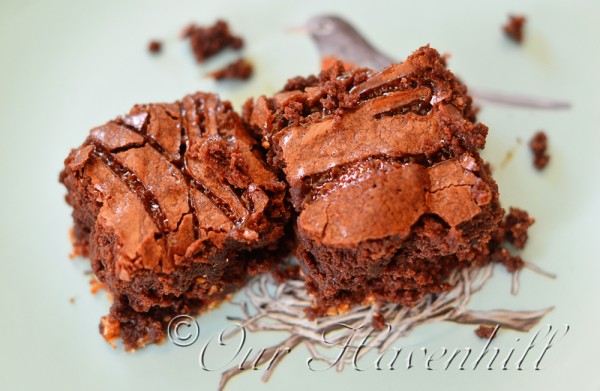 NOTE: If you don't know where to find any sesame date bars, you can order them from amazon. They come bulk in a pack of 20, or I think they sell them individually too.
Brownie recipe modified from Good Life Eats Simplest Brownie Recipe.